𝕮𝖆𝖓𝖈𝖊𝖗 | Bohemian Box Braid with Curl 12-20 Inch | Pre-Twisted Pre-Looped Crochet Synthetic Braiding Hair
---
About this item

Why you choose: With the protective properties and pleasing visuals, Bohemian Box Braid with Curl is one of the hottest hairstyles for natural and transitioning hair. You don't need to hesitate to pick this hairstyle to get a styling look.

Top-quality Hair Material: Made With High-Quality Low-Temperature Synthetic Fiber. 100% Handmade Brings Gorgeous Style And Super Natural Looking, No Smell, No Tangle. Easy To Cut For A Short Bob Box Braids Style.

Length & Color: This Bohemian Box Braid with Curl Crochet Hair Has 12", 14", 16" And 18" In Size With Multiple Colors 1b, T27, T30, T118, #118, #30, T350, T-purple, Blue, T-gray. Weight: 55-85g/pack, 16 Strands/pack. Package: 8 Packs/lot.

Suit For: Toyotress Bohemian Box Braid with Curl Will Bring You The Perfect Look For Daily Life, Wedding, Dating, Theme Parties, Back To School, As Well As Great Gift Ideas For Thanks Giving Day, Christmas Day, Mother's Day Or Friends' Birthday!

You Will Get: Toyotress Bohemian Box Braid with Curl And A Crochet Needle. Professional Customer Service And Worry-free Return & Exchange Policy. Will Deal With Any Issue Within 12 Hours.
Happy Friday! Loving my Toyotress Goddess Box Braids. I chose to mix colors 1B with T30. How'd I do?
Goddess Box Braids in Color 27! LOVED THEM!! I rocked them , for 4 weeks. They were absolutely , gorgeous no maintenance, minimum freezing, and were easy to sleep in. Biggest plus, the curly ends lasted all four weeks. I controlled frizzing,, with mousse, Come Back Curl, and Sheen spray. Separated in six sections, night, and lightly twisted...They didn't lose the curl, didn't matt, didn't frizz. I have them in another color, and will definitely be rocking them again. Purchase them directly from the Toyotress. Hair is sold in packages of eight, used seven..
I love this hair! I fell in love with it immediately. It was light weight and I could put it up or down. It lasted eight weeks and had so many compliments on it.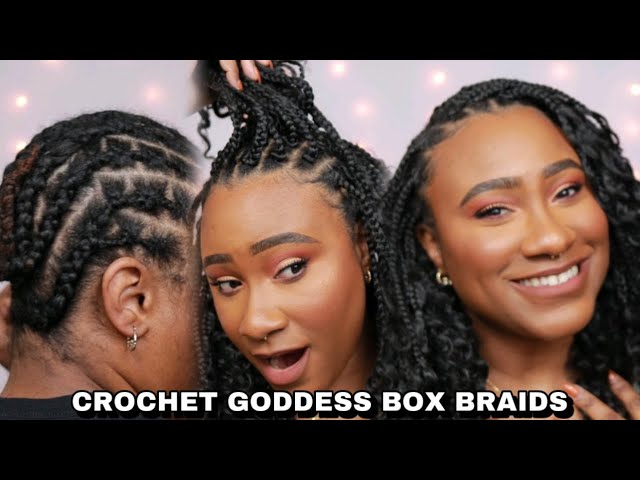 Love it!!!
I first put them in...I was already in love with them...buy them you won't be disappointed...